Wall-mount charger - Bar-graph EL Display
CXM-20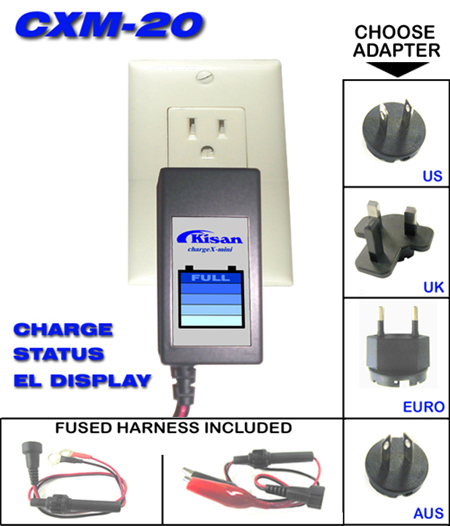 chargeX-mini is a 3-stage, 1.0 Amp charger. Included are: a fused harness for permanent connection to the battery, and another with alligator-clips for temporary connection.

chargeX-mini dimensions are 3.75" x 1.75" x 2.40".

This "smart" charger has 3-Stage charging circuit:
■ Fast Charge Cycle
■ Equalization Cycle
■ Voltage Maintenance

The Electro-Luminescent (EL) panel lights up as soon as the unit is plugged into AC outlet. Appropriate Bar-Graph segments are illuminated to show you exactly what is the status of the battery. When charging is complete, it shows the battery as 'FULL'.

chargeX-mini has many safety features built-in:
■ Short circuit protected outputs
■ Reverse polarity protection
■ Spark-free battery connections
■ Zero current drain with AC off
■ 6 Ft long cable with polarized connector

This charger is suited for lead-acid, Gel Cell, AGM, VRLA and Maintenance-free batteries. After the voltage peak is detected, Maintenance Cycle holds a constant voltage - keeping the battery fully charged.

chargeX-mini has universal AC input of 100Vac ~ 240Vac. The AC adapters are interchangeable, and are available for USA, UK, Europe and Australia.

US adapter is standard. If you need others, please select appropriate option.

chargeX-mini has all of the sophisticated safety features.
The bar-graph display lets you see the status of the battery as it's being charged graphically - one look and you know.
More Information

| | |
| --- | --- |
| UPC | 013964190649 |